Mengenal El Nido yang Jelita, Raja Ampat-nya Filipina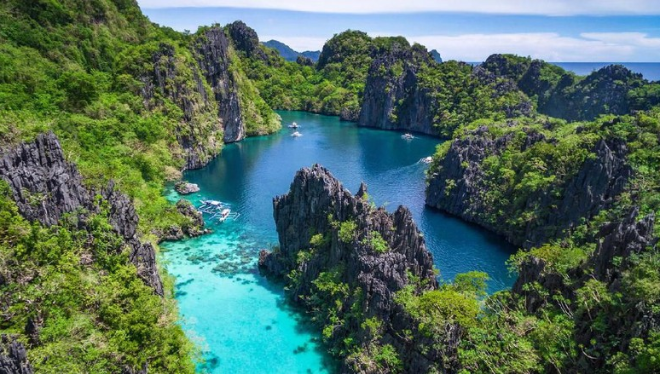 – Sebagai negara tropis, Filipina punya berbagai pantai indah. Salah satunya El Nido yang terkenal dengan kejernihan air dan keunikan tebing kapurnya. Mirip dengan Raja Ampat lho.
El Nido merupakan destinasi wisata unggulan di Pulau Palawan, Filipina. Kawasan El Nido itu terdiri atas 45 pulau yang memiliki lebih dari 50 pantai.
Pantai-pantai di El Nido ini terbilang eksotis dengan pasir yang bersih dan air laut yang berwarna hijau kebiruan. Beberapa yang terkenal seperti Pantai Nacpan, Pantai Duli, dan Pantai Balay.
El Nido yang berarti sarang dalam bahasa Spanyol ini juga terkenal dengan tebing-tebing kapurnya. Para wisatawan bisa berenang di antara tebing-tebing itu karena masih berada dalam kawasan air laut dangkal. Selain itu, El Nido juga dikenal memiliki beberapa laguna dan gua tersembunyi yang bisa dijelajahi pengunjung.
Selain berenang, para wisatawan El Nido juga bisa melakukan sejumlah olahraga air seperti menyelam, snorkeling, dan kayak. Di malam hari, El Nido juga tetap ramai karena di sana sering diadakan pesta dan terdapat sejumlah restoran yang menjual berbagai makanan dan minuman untuk wisatawan.
Kondisi alam di El Nido ini terbilang masih asri. Di sini bisa ditemukan berbagai jenis satwa seperti burung-burung langka, ikan pari, hiu paus, lumba-lumba, kura-kura, dan 800 tipe ikan lainnya. El Nido juga ditumbuhi mangrove dan memiliki 100 spesies coral.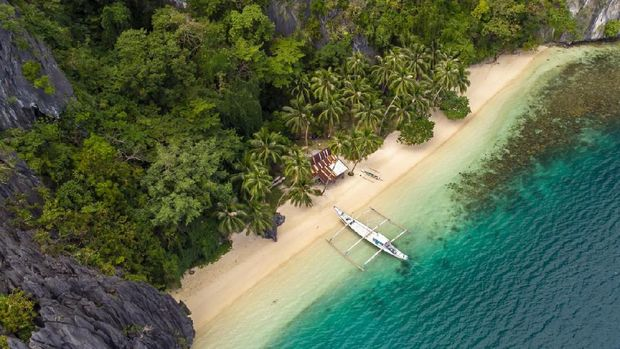 Menurut laporan CNN, waktu terbaik untuk mengunjungi El Nido adalah pada bulan Januari. Jika ingin ke sana, ada dua cara yang bisa kamu tempuh. Pertama adalah menggunakan pesawat AirSWIFT yang terbang dari bandara Manila, Cebu, Caticlan, dan Clark menuju bandara El Nido. Cara kedua adalah menempuh jalur udara dengan mendarat di Bandara Internasional Puerto Princesa di Palawan lalu menuju El Nido melalui jalur darat dengan bus atau kendaraan umum lainnya.
Minat ke Raja Ampat-nya Filipina ini? Kamu bisa ke sana hanya dengan ikutan program tahunan yaitu tiket.com d'Traveler of the Year 2019. Ada kategori khusus "tiket.com's Choice" yang bisa mewujudkan impianmu ke Filipina, termasuk El Nido!