Kisah Hidupnya Rossi Ingin Seperti The Last Dance
Valentino Rossi memiliki impian apabila dirinya pensiun dari dunia MotoGP. The Doctor ingin kisah hidupnya dibuat serial dokumenter seperti 'The Last Dance'.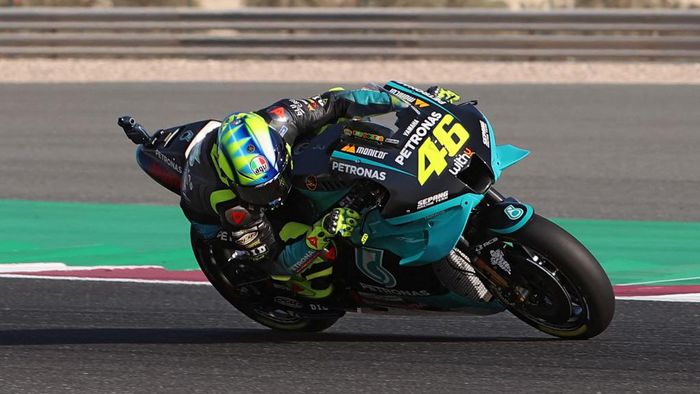 Rossi masih terus menggeber motornya di lintasan pada usia 42 tahun. Rider Italia ini bersaing di ajang MotoGP 2021 dengan seragam tim Petronas Yamaha.
Musim ini juga menandai tahun ke-25 Rossi berkarier di dunia MotoGP sejak debutnya pada 1996. Sepanjang kariernya, VR46 sudah sembilan kali juara dunia di tiga kelas berbeda, serta merebut 199 podium di kelas utama.
Valentino Rossi pun belum terpikirkan buat gantung helm dalam waktu dekat. Abang tiri dari rider Luca Marini ini mengaku masih ingin terus balapan, selagi masih punya kemampuan untuk bersaing di lintasan.
Kendati demikian, Rossi memiliki angan-angan tersendiri apabila dirinya memutuskan pensiun dari MotoGP. Dia menilai kisah hidupnya bisa dijadikan buku, hingga dapat diceritakan dalam bentuk serial dokumenter seperti 'The Last Dance'.
Seperti diketahui, 'The Last Dance' merupakan serial dokumenter yang yang ditayangkan oleh Netflix pada April 2020. Serial tersebut menceritakan kisah kejayaan pebasket Michael Jordan bersama tim Chicago Bulls.
"Saya akan senang sekali dan akan melakukan seperti itu, karena kisah saya ini sangat bagus dan bakal banyak banget yang bisa diceritakan," kata Rossi kepada La Gazzetta dello Sport.